We've been here in Seattle since Monday afternoon and I'm pretty sure one of the only things I've been able to think about is our new house. We went and saw it directly from the airport and I think I could feel my poor husband's nervousness. Poor thing was so worried I was going to hate the house! Who knows why he was nervous though... that guy did a fabulous job choosing a house! I am so stinking excited about it... I can't wait to get in there and get started on some of these big ideas I've got cooking!!
Our main plans are to start with a fresh coat of brilliant white paint, put in all new flooring, and then head over to the kitchen. (We're a lacking a little in the working appliance department... and thank goodness the kitchen is fairly small!) I, however, like to get ahead of myself and am already looking for furniture for the kitchen. (Of course!)
I put a quick kitchen floor plan together this week so we could get some basic pricing for cabinets and counter tops. While drawing up the plan, I realized we might actually have room for a small (super small!) island in our kitchen! I can't even begin to tell you how excited I was... I have got to have a place for my kids to eat in the kitchen. Anyway... island means... stools!!! Which means I get to look for furniture... hence me jumping the gun and searching for furniture!
During my search I think I found the most INCREDIBLE
contemporary seating company
out there... their prices I promise can't be beat and their chair styles are to die for!! I know you are just going to love them...
I mean seriously?
All those colors?
How can you not just absolutely love it? And the price... my gosh...
I think maybe I need to do something like this in my house? Thoughts? (oooh white floors...)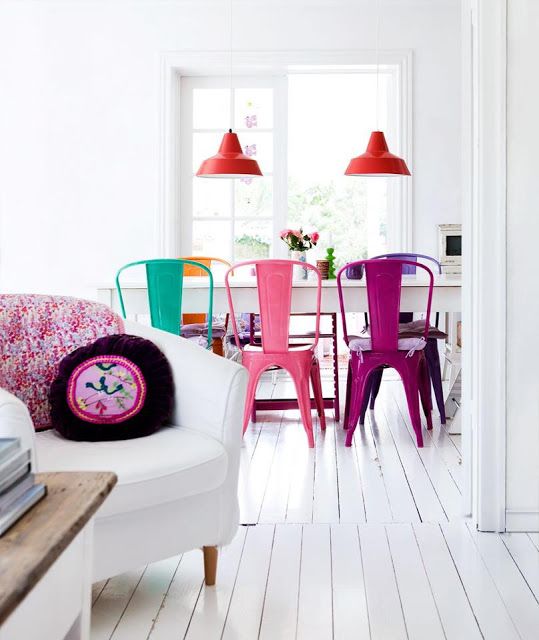 And
that chair
... for $89?! Yes... that is what I said... UNDER $100!!!! I think I need the yellow... or maybe white? or maybe
this chair
?
Arms
... or
no arms
... that is the question! But then again... these now come
bar height
! I know right?!
And then my
bar stools
... I think I'm going to go with a yellow maybe? What do you think? Think it will go with a white, gray, green color scheme? Although... that light blue is actually pretty gorgeous and would look incredible with the green, gray, white colors...
Okay... YOUR TURN!! What are you LOVING LATELY?? Link it up below! The only thing we ask... we'd love for you to follow along with each of us, me,
Kelly
, and
Lish
and help spread the word!! Grab a button and link back to us somehow. You guys are the best!!!