Military inspired huh? Yep... that's what I said! So I know its a trend that has been around for quite some time and I have yet to really jump on that band wagon. Why you ask? Well... camo... I've avoided it like the plague since I was a child. Don't know why honestly. Although, I've had a seriously strong desire to pick up a fabulous pair of camo pants, kind of like the one's
Meagan
is wearing this time around for What She Wears. But I've been a little afraid of it still...
And that brings us to studs (because in my mind the two just go together...) I have a major confession... I am not a huge fan. I'm still looking for just the right piece that has just the right amount of studs in just the right places. I'll get there... maybe?
But military inspired... that I can do... if I can manage it without camo and studs... because honestly I totally love the look. I love the green and the silhouettes and I especially love combining it with other more feminine things. So when I tell you that I had a hard time narrowing down a shirt for this little outfit of mine that would be a major understatement. I totally went through three or four different shirts, from three different stores, and about a million places in between looking for that "perfect" piece. I wanted something more neutral looking that I would be able to incorporate at anytime during the fall.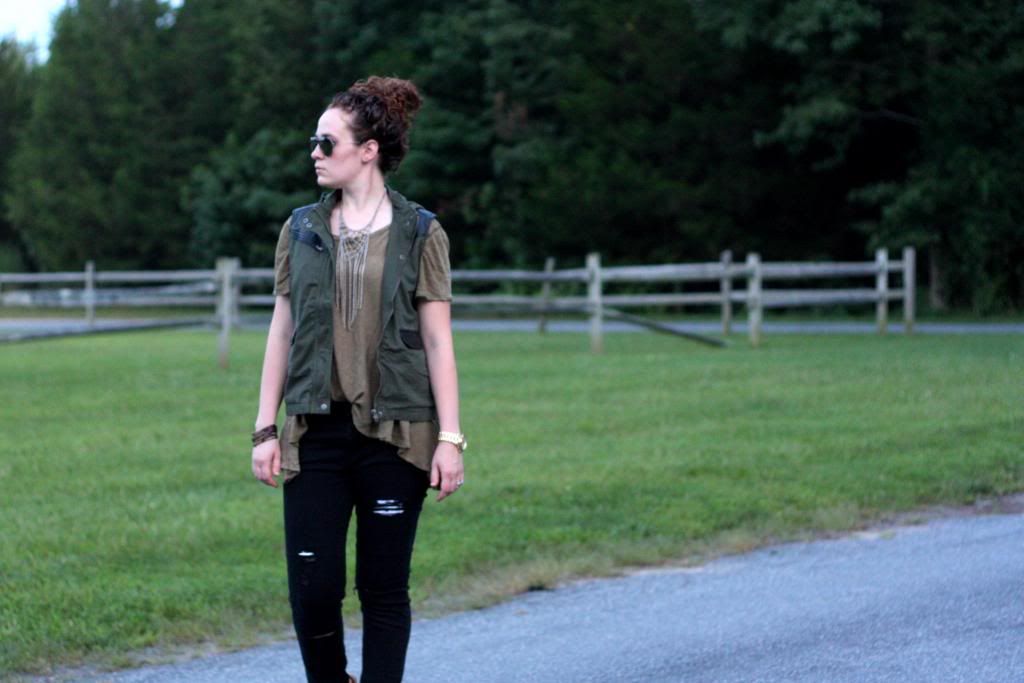 shirt: free people // vest: urban outfitters // pants: h&m // shoes: Mix No 6 // necklace: urban outfitters
Do you ever do that? Get this image of exactly what you want in your mind and then search the globe trying to find it? or wait and wait until you find that "perfect" piece and by the time you get it the trend is totally over? Because I'm currently in search of the perfect pair of booties....
and now... YOUR TURN!!! I sooo want to see your military inspired outfits (new or from your archives!)... I need some serious inspiration now that I've finally jumped on the bandwagon... only rules? Follow along with all our lovely co-hosts,
Meagan
,
Brandi
,
Rebecca
, and
Kayleigh
... jump around and see everyone's fabulous outfits. We can never have enough inspiration right?? Be sure to check back next week and see if you are featured as a favorite!!